【EN】 Mob Psycho 100 Ⅲ Graduation Event ~ Thank You Mob Psycho ~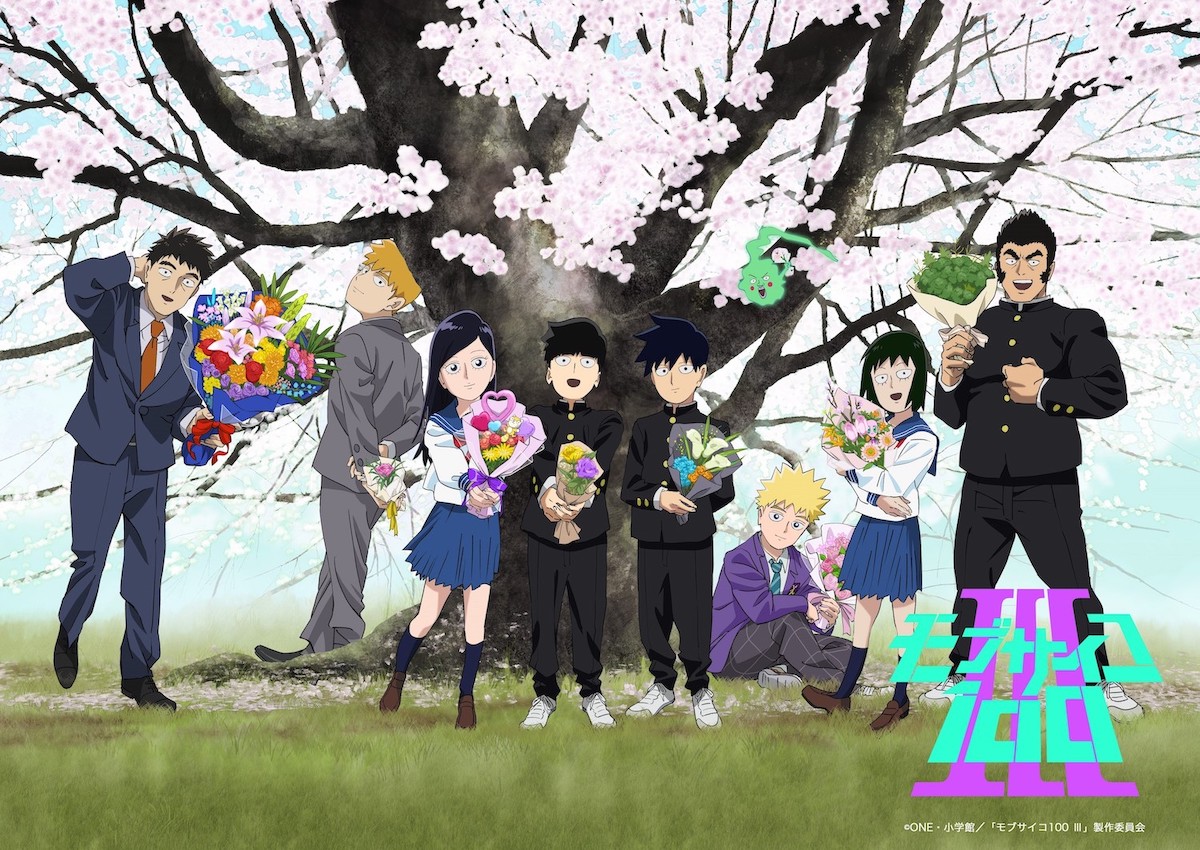 April 9, 2023 (Sun.) OPEN 16:00 / START 17:00
Tokyo Garden Theater
Setsuo Ito, Takahiro Sakurai, Miyu Irino, Yoshitsugu Matsuoka, Takanori Hoshino, Uki Satake, Toshihiko Seki, MOB CHOIR
MC: Chiaki Matsuzawa
Ticket: JPY 9,680(tax included)
Ticket:https://ib.eplus.jp/mobpsycho100
Start on sale: February 25, 2023(Sat.) 13:00 (JST)
End on sale: March 9, 2023(Thu.) 23:59 (JST)
* Up to 2 tickets per person can be purchased.
▼Precaution

* Performers are subject to change without notice.
* Please note that ticket refunds will not be made due to changes or cancellations of artists.
* Admission gift included
* The event will be held in full capacity.
* The guests' body temperature will be measured at the entrance of the venue. Those with a fever of 37.5℃ or higher or with symptoms of infection of COVID-19 such as taste or smell disorders will not be allowed to enter the venue.
* We will pay close attention to the safety of our customers, performers, and staff, and will take thorough safety measures to prevent the spread of COVID-19. Please note that the event may change depending on the future situation of the coronavirus infection.
* Recording or video recording in the auditorium is prohibited.
* The event date and venue may be changed due to unavoidable circumstances such as natural disasters and their effects.
* Please be sure to bring a photo ID with you on the day of the event, as we may need to verify your identity upon entry. If your name is different from your order, or you do not have a valid ID card, you may be denied entry. If you have a companion, please enter the venue together.
* Resale of tickets (including selling or buying on internet auctions) or any attempt to do so is prohibited. Please note that resold tickets are invalid you will not be allowed to enter with a resold ticket.
* Tickets purchased at the customer's request cannot be exchanged, changed, or canceled for any reason. In addition, cooling off is not available for the confirmed tickets.
* Children under pre-school age are not allowed to enter.* 10% handling charge included in ticket(s) price.
* Once your order has been completed, any changes or cancellations will not be accepted.
* Ticket(s) will be exchanged on the day of the event . At the time of exchanging the ticket(s) ,the person who purchase the ticket will be required to show a valid photo identification (e.g. passport) .
* The only person who made the reservation must be present to collect ticket(s) at the venue.
* Seat number will not be informed beforehand until you pick up your ticket at the venue on the day. We appreciate your kind understanding.
* Please make sure you have read the event details from official website in advance.
Online Viewing Ticket for Oversea Residents
Live streaming schedule: April 9, 2023 (Sun.) Start 17:00 (JST)
Archive: available until April 15, 2023(Sat.) 23:59 (JST)
Ticket: JPY 4,681 (tax included)
Start on sale: February 25, 2023(Sat.) 13:00 (JST)
End on sale: April 15, 2023(Sat.) 20:00 (JST)
Streaming Platform: Streaming+ <https://ib.eplus.jp/mobpsycho100_st>
* Please note that this ticket is for online event.
* Streaming service may not be available depending on your country, region, time zone, etc.
* Please check the User Guide of Streaming+ to get more information before purchase.
* Please note that no changes or cancellation can be made after your purchase is confirmed.
Streaming Plus Service is only available in the following countries and regions.
Australia, Brazil, Canada, Mainland China, France, Germany, Hong Kong, Indonesia, Italy, South Korea, Macao, Malaysia, New Zealand, Philippines, Poland, Singapore, Taiwan, Thailand, the United Kingdom, the United States